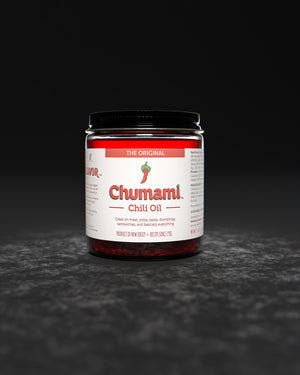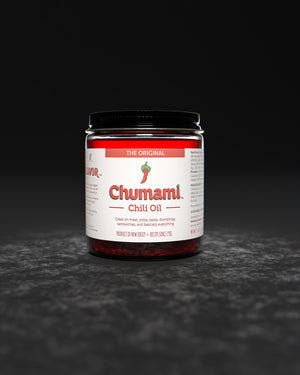 On Sale
Chumami Chili Oil - The Original
Premium all-purpose chili oil made with simple, wholesome ingredients. No MSG. No artificial preservatives. No artificial flavors. Just a whole lot of LOVE. 
Our chili oil is a curated blend of ripe bird eye chili peppers, savory dried shrimps and spices. Made with non-GMO expeller pressed(no chemicals) canola oil. We've meticulously crafted a flavor profile from fresh wholesome ingredients. This combination of ingredients delivers a flavor profile unprecedented to any type of chili oil. Drizzle, lather, slather on your meat, vegetables, breads, pastas, pizzas. You name it. 
Ingredients: Non-GMO canola oil, black vinegar, bird eye chili peppers, garlic, red chili pepper powder, dried shrimp (shrimp, salt), sea salt, cane sugar                            
For wholesale requests, please contact us at team@chumamichilioil.com.