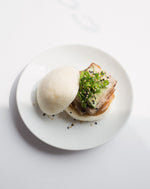 Succulent, tender pork belly that will melt-in-your-mouth! Infused with Chumami Chili Oil and tons of fragrant aromatics, such as ginger, scallions, star anise. This is comfort food wrapped in a steamed bao bun. It's both savory and a touch sweet with a slight heat. 
Pork belly buns are common to see in a lot of upscale asian restaurants, but the way Herman and I used to have pork belly growing up was the classic "hong shou rou" also known as red braised pork belly. Typically we would have this dish for large family get togethers for EXTRA special occasions. 
Now that Herman and I are older, we have taken the classic "hong shou rou" dish and combined the flavors of some of our favorite upscale pork belly dishes we've tried and created something that is still indulgent, but brightened with the combination of Chumami Chili Oil's vibrant flavor and spice. We hope you enjoy our take on a classic braised pork belly recipe! 
Ingredients you'll need:
1 lb of pork belly (cut into 3-4 inch rectangles)
1 bundle of green onions (chop 1 stem for garnish)
3-4 slices of fresh ginger
2 star anise
4 tbs Chinese wine (optional)
4 tbs soy sauce
3 tbs dark soy sauce
3 tbs brown sugar
3 tbs Chumami Chili Oil
1/2 tsp white pepper
3-4 cups of water
Creamy spicy sauce: 2 parts mayo and 1 part Chumami Chili Oil (grab the bottom chili part more)
 Additional toppings: roasted pine nuts, sesame seeds, chopped scallions, cilantro
Instructions:
In a medium-sized pot, sear pork belly on medium high heat. The meat will initially stick to the pot and will release once it's cooked. The goal is to get some nice color on both sides of the meat. 
Once browned, add in your ginger and star anise. Stir ingredients until fragrant. Now add water (the meat should be completely covered) and bring to a boil and cook meat for 45 mins with lid on top. Remove excess fat and "brown bits" that float to the top
Add in your bundle of green onions, soy sauce, dark soy sauce, Chinese wine, brown sugar, Chumami Chili Oil, and white pepper. Remove lid and cook on low heat for an hour
At this point, the meat should be ultra tender. Remove off heat and let it rest overnight (if you can wait!)
Remove meat and cut into thick slices and pan fry over medium heat and add in a couple teaspoons of the excess sauce to glaze the meat. Pair with your favorite steamed bun and add in your condiments and you are ready to enjoy!