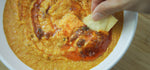 Easy roasted red pepper hummus recipe with sweet red bell peppers, chickpeas, and garlic.
A dish this good, you'd think it'd be difficult...but it's actually one of the easiest appetizers I know and I make it for almost every dinner party. Once you have all the ingredients, it takes less than 5 minutes to prepare. Try it out for yourself!
What you'll need:
1 jar of whole roasted red bell peppers

2 tablespoon of Chumami chili oil (save some to top off the hummus)

1 (15-ounce) can chickpeas 

1/4 cup (60 ml) fresh lemon juice, about 1 large lemon

1 small garlic clove

3 tablespoons extra virgin olive oil, plus more for serving

1/2 teaspoon ground cumin

Pinch cayenne pepper (optional)

Salt and pepper to taste
Before getting started, be sure to rinse and drain your chickpeas to make sure there is no weird chickpea juices in your hummus. 
In a food processor, combine all your ingredients. Process for 30 seconds, scrape the sides and bottom of the bowl then process another 30 seconds or until well blended.
You're looking for a very creamy, smooth consistency. If your food processor is having issues blending everything at once, feel free to take out half the amount of chickpeas and blend in smaller batches.
Once blended, scrap ingredients into a bowl and top with an EXTRA drizzle of Chumami! Grab your pita chips and veg and ENJOY.