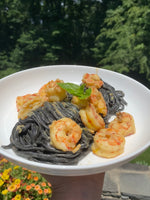 This dish is so simple, yet so decadent and luxurious. The sauce is velvety and folds perfectly with the squid ink pasta. The slight hint of spice from the fresh bird eye chili peppers inside Chumami adds a lovely aromatic that compliments (yet not overpowers!) the beautiful touch of saffron that is added to the dish to create a slight orange/yellow stain to the sauce. Hope you enjoy! Be sure to share your delicious creations and tag us @chumamichilioil 
Ingredients you'll need:
1 packet of squid ink pasta
1 lb medium size shrimp (deveined)
1/2 cup half and half
5 cloves garlic (chopped)
1/2 cup white wine
4 tbs Chumami Chili Oil
Lemon zest (1 lemon)
1/2 tsp saffron 
Seasoning combo: Kosher Salt, Paprika,Black Pepper, Onion Powder, Garlic Powder
Salt and pepper, to taste
Olive oil
Basil (garnish)
In a large pot, start boiling your water and heat at medium-high while you are preparing your sauce and shrimp. 
In a large plate, combine your raw shrimp with your seasoning combo and 2 tbs of Chumami Chili Oil (both the bottom and top oil). Mix until well-coated on each side
Add olive oil to a saucepan on medium-high heat and sear shrimps on both side (45 secs - 1 minute on each side). The purpose of this step is create some nice color on the shrimp without fully cooking the shrimp. Remove off heat and set aside onto a clean plate. 
In the same pan that you cooked your shrimp in, add in your chopped garlic and 1-2 tbs of Chumami Chili Oil. Deglaze the pan with your wine and lower heat to medium-low. After 4-5 minutes, add your saffron and lemon zest to the pan. Add back in your shrimp and finish off the sauce with your half and half cream and season to taste. 
At this time you should be cooking your pasta. We used fresh pasta, so this only took a couple minutes. Once cooked, add your pasta to the sauce and toss until well combined. Top with a bit of fresh basil and cracked pepper and enjoy!