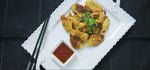 Fresh and scrumptious fried shrimp wontons with a sweet, savory sauce. This dish is perfect for sharing or as its own meal. If I don't fry these dumplings… I also love to boil them too… both are SUPER delicious. 
What you'll need:
6 oz. finely chopped shrimp

1 tablespoon finely chopped scallions

1 tablespoon of ginger (juiced)

1/2 teaspoon sesame oil

1 teaspoon soy sauce

2 teaspoons Shaoxing wine

¼ teaspoon salt

¼ teaspoon sugar

1 pinch fresh ground white pepper

18 Wonton skins

4 tablespoons frying oil
For the chili oil sauce:
3 tablespoons light soy sauce

6 tablespoons of Chumami chili oil

1/2 teaspoon Chinese black vinegar

2 teaspoons sugar or agave syrup

2 cloves of garlic

, finely minced

White pepper to taste
First thing is to add all of the wonton filling ingredients to a bowl (everything from the finely chopped shrimp to the white pepper) and whip everything together with your hands or a plastic spatula. 
To make the wontons, take a wonton wrapper, and add about a teaspoon of filling. Use your finger to coat the edges with water and fold your wonton wrapper into a triangle. Be sure to press edges tightly without squeezing out any of the filling. 
Once the wontons are wrapped, pour your frying oil into a shallow pan. While the oil is heating, make the sauce by mixing all the ingredients together in a small mixing bowl. 
Once your oil reaches 350 degrees farenheit ( we usually use the back of a wooden spoon or chopstick to see if it bubbles), gently place wontons into the pan. Try your best to not overcrowd the pan. Give 2-3 mins on each side til golden brown on medium heat. Remove from heat when cooked. 
Place on a paper towel to soak up any excess oil, and it is ready to serve. Grab your dipping sauce and you're ready to go. Enjoy!