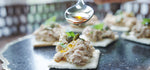 Looking for an appetizer that uses what is already in the house that is easy and quick to make? This dish is for you then. 
What you'll need: 
3 cans of tuna fish

½ cup of mayonnaise

2 teaspoons of dijon mustard

1 tablespoon of Chumami chili oil

1 teaspoon of smoked paprika

Optional: toasted pumpkin seeds to garnish

Salt and pepper to taste

Package of crackers of your choice
In a medium size bowl, add your drained tuna fish, mayonnaise, dijon mustard, Chumami chili oil, and smoked paprika. Thoroughly mix all your ingredients and add salt and pepper to taste. 
Place a teaspoon of the mixture on a cracker of your choice. Add toasted pumpkin seeds, a drizzle of Chumami chili oil and smoked paprika for decoration and extra flavor, and it is READY TO SERVE.