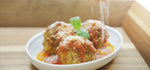 What you'll need: 
1/2 lb. ground beef

1/2 lb. ground spicy sausage

1 c. breadcrumbs

1 egg

1/4 c. Parmesan, plus more for serving

1 block of cheese of your choice (in the image I used sharp cheddar)

1 tbsp. olive oil

1 15-oz. jar marinara

2 tablespoon of Chumami
To prep for your meatballs, start by cutting your block of cheese into 1" cubes and set aside.
In a mixing bowl, combine ground beef, sausage, breadcrumbs, eggs, Parmesan, and tablespoon of Chumami chili oil. Season to taste with salt and pepper and stir to combine. Scoop meatball mixture into a small ball and press your cubed piece of cheese into the center, sealing meat tightly around cheese. 
Heat olive oil in a large skillet over medium-high heat. Add the meatballs and cook to brown on all sides. When the meatballs have developed a nice crust, remove excess oil and pour marinara sauce on top of the meatballs. Add half cup of water, and let dish simmer for another 15 minutes. It helps ensure your meatball is fully cooked and it allows the meatballs to soak up all that delicious flavor. 
Once the sauce has thickened up, and your meatballs are fully cooked, remove from the stove and place on a serving dish. As a finishing touch, I love adding some fresh basil, grated parmesan, and a drizzle of the Chumami chili oil.